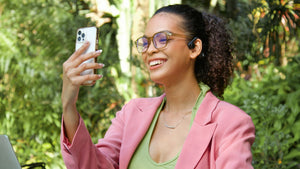 why kaibo verse bone conduction headphones are the best headphones for people with glasses
If you are looking for a pair of headphones that will allow you to listen to music on the go without having to worry about ear buds falling out or getting tangled in your hair, then you should try out the Kaibo Verse Bone Conduction Headphones. This type of headphone allows sound waves to travel through your cheekbones and skull rather than through your ears like traditional ear buds do.
In this article, I'm going to explain why these headphones are perfect for people who wear glasses because they're safe, easy-to-use, comfortable and convenient! Let's get started!
Be productive everywhere, with your glasses and kaibo verse
You can listen to music or podcasts while doing other things. You can hear the voice of your friends and those around you.
With Kaibo Verse, you are able to listen to music and at the same time, be aware of your surroundings. For example: when crossing the street or riding a bike, you can still hear cars coming from behind so that you know when it is safe for them to pass. This will prevent accidents from happening!
No risk of falling
The Kaibo Verse Headphones are the perfect option for people who wear glasses because they have a strap that keeps the headphones in place. They do not pull on your head, and the headphones are adjustable so that you can choose how tight or loose you want them to be. The earbuds also sit comfortably in your ears and don't hurt at all.
It's designed for comfort
Built with a titanium and silicone band, the Kaibo Verse weighs in at only 27.2 grams and rests gently on the arch of your ear, making these headphones ideal for running!
the best choice for all glasses wearers
Kaibo Verse bone conduction headphones is the best choice for all glasses wearers because it fits around your head perfectly with comfort. The Kaibo Verse's lightweight design and light pressure on the ears make it comfortable to wear for long periods of time.

A single charge of the Kaibo Verse offers up to 6 hours of listen+talk for better productivity.
IT'S MORE AFFORDABLE THAN ANY ALTERNATIVE
The Kaibo Verse packs the same excellent sound quality and a lot of premium features into an affordable, lightweight package. You won't find the same value anywhere else!
The Kaibo Verse can be charged via a USB Type-C cable, which is included in the box.
Nope! They might look like they are, but the Kaibo Verse actually sits right at the opening to your ear canal.
Yes. Kaibo Verse headphones are designed to fit comfortably with glasses or sunglasses.
Yes! Kaibo Verse's bone conduction technology provides an open-ear listening experience so you can stay aware of your surroundings and stay safe whenever and wherever you exercise outside.
Kaibo Verse is water and sweat resistant. Please do not submerge it in water.
Any device that's compatible with Bluetooth 5.0 – so most laptops, Android and iOS devices.
The only set-up required is to pair your Kaibo Verse to your Bluetooth device. If you need help doing this, please refer to the user manual (provided both in the box and on our website).