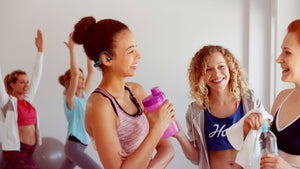 Why Kaibo Verse Bone Conduction Headphones Are The Best Headphones For Jogging Groups?
Jogging is one of the best ways to stay in shape. It's also a great way to get outside and clear your head. But sometimes, you want something more than just a treadmill or track at the gym. Jogging with friends may be an extra motivation and fun—rain or shine! So why should you choose Kaibo Verse Bone Conduction Headphones? The answer is simple: they've been designed for sports and lifestyle.
listen to your friends while playing your favorite music.
Bone conduction technology allows you to listen to your friends while playing your favorite music. With the bone conduction headphones, you can still hear everything around you, so it's easy to stay safe while playing your favorite tunes.
fits great on the head when jogging
The fit and feel of these headphones are the key to their popularity among joggers. They have a snug fit that stays put, no matter how fast or hard you're moving your head. If you like to run with music, you know that it can be difficult to get a good seal on traditional earbuds.
It's designed for comfort
Built with a titanium and silicone band, the Kaibo Verse weighs in at only 27.2 grams and rests gently on the arch of your ear, making these headphones ideal for sports and lifestyle use.
Sweatproof design lets you wear them in all weather conditions
Another reason why Kaibo Verse Bone Conduction Headphones are the best headphones for jogging is their sweatproof design. You'll be able to wear them in all weather conditions without worrying about your ears getting wet or muddy.

Plus, a single charge of the Kaibo Verse offers up to 6 hours of listen+talk for longer trails.
IT'S MORE AFFORDABLE THAN ANY ALTERNATIVE
The Kaibo Verse packs the same excellent sound quality and a lot of premium features into an affordable, lightweight package. You won't find the same value anywhere else!
The Kaibo Verse can be charged via a USB Type-C cable, which is included in the box.
Nope! They might look like they are, but the Kaibo Verse actually sits right at the opening to your ear canal.
Yes. Kaibo Verse headphones are designed to fit comfortably with glasses or sunglasses.
Yes! Kaibo Verse's bone conduction technology provides an open-ear listening experience so you can stay aware of your surroundings and stay safe whenever and wherever you exercise outside.
Kaibo Verse is water and sweat resistant. Please do not submerge it in water.
Any device that's compatible with Bluetooth 5.0 – so most laptops, Android and iOS devices.
The only set-up required is to pair your Kaibo Verse to your Bluetooth device. If you need help doing this, please refer to the user manual (provided both in the box and on our website).