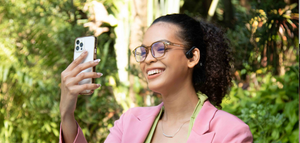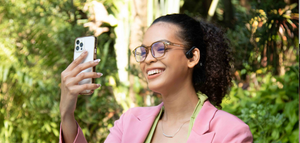 Why Are
People With Glasses
Switching to Kaibo Verse?
Say goodbye to headphones that squeeze over your ears. The Kaibo Verse is lightweight, wire-free and offers superior open-ear sound.
Designed For
People With Glasses
✓ Be productive everywhere. With Kaibo Verse's open-ear technology, you are able to listen to music and at the same time, be aware of your surroundings. 
✓ No risk of falling. They have a strap that keeps the headphones in place.
✓ Comfortable & Lightweight. Built with a titanium and silicone band, the Kaibo Verse weighs in at only 27.2 grams and rests gently on the arch of your ear, making these headphones ideal for long use!
WHY OPEN EAR?
Bone Conduction Techonlogy (BCT) keep your ears open to the natural sounds around you so that you stay present even with your headphones on. Experience:
✓ Connection. Enjoy your music while staying connected to the people and places in your life.
✓ Awareness.  Keep your ears open to possible hazards and safety risks in your surroundings.
✓ Flexibility. From meetings to working out, move through your day with comfort and ease.
The Kaibo Difference
Superior Sound
Kaibo Verse uses patented audio technology to deliver:
✓ STEREO-QUALITY SOUND. Crystal-clear mid and high-pitch frequencies alongside solid bass. You can hear every detail accurately. 
✓ MINIMAL VIBRATIONS. Our patented bone conduction transducers combined with the right materials and mechanical design. Now you can enjoy your music and calls at any volume without any uncomfortable sensations or stress to your ears. 
✓ MINIMAL SOUND LEAKAGE. Our innovative cladding technique eliminates almost all sound leakage, keeping your music and calls private.
Premium Features. For Less.
The Kaibo Verse packs the same excellent sound quality and a lot of premium features into an affordable, lightweight package.
With innovative solutions like quick charge, smart touch and wearable detection, you can experience the future of listening without breaking the bank.
The Kaibo Verse can be charged via a USB Type-C cable, which is included in the box.
Yes. Kaibo Verse headphones are designed to fit comfortably with glasses or sunglasses.
Nope! They might look like they are, but the Kaibo Verse actually sits right at the opening to your ear canal.
Any device that's compatible with Bluetooth 5.0 – so most laptops, Android and iOS devices.
Kaibo Verse is water and sweat resistant. Please do not submerge it in water.
Yes! Kaibo Verse's bone conduction technology provides an open-ear listening experience so you can stay aware of your surroundings and stay safe whenever and wherever you exercise outside.
The only set-up required is to pair your Kaibo Verse to your Bluetooth device. If you need help doing this, please refer to the user manual (provided both in the box and on our website).