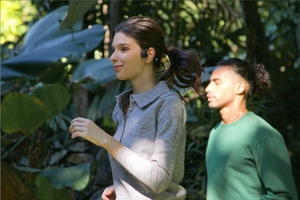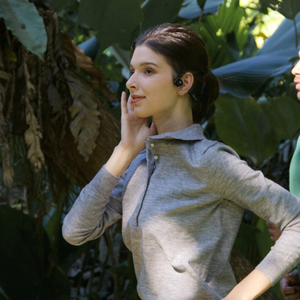 TOP 5 REASONS WHY RUNNERS ARE SWITCHING TO KAIBO VERSE BONE CONDUCTION HEADPHONES
If you love to run, then using bone conduction headphones can help you stay safe, comfortable and entertained as you pound the pavement.
But why are runners making the switch from traditional headphones to the Kaibo Verse?
1. It's safer
Your ears are still free to listen to surrounding traffic, pedestrians and obstacles. This is especially important if you're running in an urban environment with lots of cars and people around you.
Bone conduction technology allows your ears to remain open while wearing headphones. It transmits vibrations directly into the inner ear where they can be translated into sound waves that reach your brain.
2. You don't have to put anything in your ears
This means no more sweaty earbuds, ear wax build-up or waterlogged buds when you go for a run in the rain.
You'll also be able to enjoy music without having to worry about tangled cords getting caught on your clothing or hair
3. It's designed for comfort
Built with a titanium and silicone band, the Kaibo Verse weighs in at only 27.2 grams and rests gently on the arch of your ear, making these headphones ideal for running!
4. They're Great on the trails
If you're an avid trail runner, the Kaibo Verse sits on your cheekbone so it won't get caught in nearby tree branches. This means that you can not only hear the world around you, but also hear your music without covering your ears.

Plus, a single charge of the Kaibo Verse offers up to 6 hours of listen+talk for longer trails.
5. IT'S MORE AFFORDABLE THAN ANY ALTERNATIVE
The Kaibo Verse packs the same excellent sound quality and a lot of premium features into an affordable, lightweight package. You won't find the same value anywhere else!
The Kaibo Verse can be charged via a USB Type-C cable, which is included in the box.
Nope! They might look like they are, but the Kaibo Verse actually sits right at the opening to your ear canal.
Yes. Kaibo Verse headphones are designed to fit comfortably with glasses or sunglasses.
Yes! Kaibo Verse's bone conduction technology provides an open-ear listening experience so you can stay aware of your surroundings and stay safe whenever and wherever you exercise outside.
Kaibo Verse is water and sweat resistant. Please do not submerge it in water.
Any device that's compatible with Bluetooth 5.0 – so most laptops, Android and iOS devices.
The only set-up required is to pair your Kaibo Verse to your Bluetooth device. If you need help doing this, please refer to the user manual (provided both in the box and on our website).